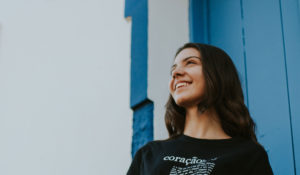 From navigating social dynamics to difficult academics, high school can be filled with many challenges as it is. Finding out you're pregnant during your high school years can feel like an insurmountable hurdle. You may be wondering if you can finish high school if you are pregant, but it's important to know that it's absolutely possible to excel in high school and graduate while pregnant or parenting! 
Boston Center for Pregnancy Choices exists to empower women who are facing unplanned pregnancies and equip them with the tools and knowledge they need to accomplish their dreams. 
Know Your Rights and Resources as a Pregnant Student
Finding out you're pregnant has likely brought about some worries and questions. You may be asking yourself "Will I have to miss classes for appointments?" or "Am I going to be kicked out of school?" and of course, "Can I finish high school if I'm pregnant?"

Not knowing the answers to these questions can lead many women to make a choice for their pregnancies based on fear and worry. That's why it's important to understand your rights as a pregnant student.

Title IX is a federal law that requires all public schools to provide special provisions for pregnant or parenting students. These laws prohibit anyone from harassing or discriminating against you due to your pregnancy or parenting status.

Additionally, it requires that you are enabled and empowered to participate in classes as well as the extracurricular activities and programs of your choice without hindrance. Pregnant students are legally required to have access to resources like elevators, restroom breaks, larger desks, and excused absences from class due to pregnancy, birth, or parenting. 

In order to learn more about how your school will support you during this time, schedule an appointment with your school counselor and academic advisor. 
Helpful Support Systems for Being Pregnant in High School

In addition to the help and extra support you should receive from your school, you should also consider leaning into some of the other support systems available to you.

Every individual's situation is different, but consider reaching out to the following groups for help and support:

Family and Friends
It's crucial that you find family members or friends who are committed to loving you during this time. While you may find that some individuals in your life are less helpful or encouraging than others, find a few people you trust to hold you accountable to your goals, support you in your pursuit of finishing high school, and encourage you along the way. 
Other Supportive Adults
You may have an amazing group of friends at school who are willing to help you during your pregnancy, but it's always helpful to have some supportive adults in your life in addition to your own family members. These adults could be school counselors, teachers, church members, or your friend's parents. Consider making a list of a few helpful adults and asking them if they would be on your support team as you work towards your goal of finishing high school during your pregnancy. 
Your Local Pregnancy Center
Are you looking for a group of people who will be there for you each step of your pregnancy? Look no further! Your local pregnancy center is here to help. Boston Center for Pregnancy Choices exists to help you during this time!

Not only do we provide free pregnancy services, such as lab-quality pregnancy tests, ultrasound referrals, options counseling, but we also provide a listening ear and a safe space for you to process your fears, questions, and dreams. Our team will be present to guide you through your pregnancy and help you identify resources that will make finishing high school while pregnant easier for you!
Schedule Your Free Appointment Today! 
Visit Boston Center for Pregnancy Choices to learn more about your pregnancy through our free pregnancy services! Our team will provide you with options counseling, physical resources, and community referrals to help empower and equip you as you work towards your goals!

Schedule your appointment today!